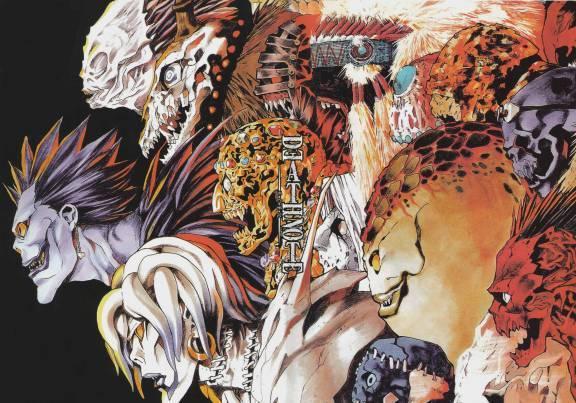 Shinigami
Shinigami, atau dewa Of Death, adalah makhluk iblis-seperti yang tinggal di dunia Shinigami. Shinigami secara fungsional abadi, dapat memperpanjang hidup mereka tanpa batas dengan menulis nama-nama manusia padaCatatan Kematian mereka. Dengan menuliskan nama seorang manusia yang ditakdirkan saat kematian belum tiba,Shinigami memiliki jangka hidup mereka meningkat dengan jumlah yang manusia akan hidup (misalnya tahun empat puluh tua yang akan hidup sampai usia enam puluh akan menghasilkan dua puluh tahun). Seperti Ryuk menjelaskanitu, kehidupan di dunia Shinigami adalah sangat membosankan; Shinigami melakukan sedikit lebih dari berjudi terus-menerus, dan menggunakan Death Note lebih dari sekali-sekali dianggap workaholics sesuatu yang dilakukan,mereka hanya menuliskan nama dalam buku catatan mereka untuk meningkatkan mereka rentang hidup tetapiketika mereka tidak perlu meningkatkan rentang hidup mereka berjudi tetapi mereka tidak mengendur sama sekali.Shinigami utama ditampilkan dalam seri adalah Ryuk, Rem dan Sidoh. Satu-satunya cara untuk membunuhShinigami adalah melalui cinta bagi manusia (misalnya jika manusia sudah ditakdirkan untuk mati dari pembunuhandan Shinigami membunuh pembunuh, Shinigami kemudian akan berubah menjadi debu dan menguap, seperti Geluslakukan untuk memperpanjang hidup Misa's) .
Para Shinigami :


Ryuk
Ryuk (リューク, Ryūku?) Adalah Shinigami utama dari seri Death Note. Dia adalah 6'6 "sesuai dengan volume Death Note 1. Bosan dengan kegiatan (atau ketiadaan) dari dunia Shinigami, Ryuk mendapatkan sebuah Death Note kedua oleh Shinigami menipu raja dan menjatuhkannya di alam manusia bagi seseorang untuk menemukan, berharap untuk menghibur dirinya sendiri. Ia sengaja menulis instruksi di halaman depan (dalam bahasa Inggris, yang dianggap bahasa yang paling populer di dunia manusia) sehingga orang akan mengerti tujuannya. The Death Note ditemukan oleh Light Yagami, dan Ryuk berikut dia sekitar untuk banyak seri untuk melihat bagaimana menggunakannya Light Ryuk memiliki penampilan yang cukup humanoid.. Kulitnya abu-abu, atau warna keunguan, anggota tubuhnya yang normal panjang, dan dia telah menonjol mata kuning dengan iris hitam (merah di anime), dalam film, ia diwakili oleh CGI Dia adalah Salah Shido Nakamura di anime Jepang dan adaptasi live-action, sementara Brian Drummond suara dia di Inggris pangkat..
Ryuk ditandai dengan hiburan terus-menerus oleh, dan sikap apatis dalam hal, masalah Light. Dia menikmati melihat Cahaya mengatasi berbagai tantangan dihukum dia, dan sering menunggu sampai saat terburuk untuk memberitahukan kepadanya tentang suatu aspek tertentu dari Death Note hanya untuk mendapatkan tertawa. Dia kadang-kadang berguna jika melayani kepentingan sendiri, seperti mendapatkan apel atau melanjutkan geli sendiri, tetapi untuk sebagian besar bercanda akan menanyakan Cahaya apa langkah berikutnya akan atau Light menjelaskan kepadanya titik tindakan tertentu. Dia mengatakan Cahaya di volume pertama ia tidak melihat apa Light menulis selalu karena ia menemukan lebih lucu. sfist ini menjelaskan Ryuk sebagai "makhluk gila yang tampak, supranatural dengan mata jahat" yang menjadi "(mengejutkan)" a "kompas moral" untuk Light dalam versi film Death Note. Ryuk memiliki kesukaan besar untuk apel, membandingkannya dengan rokok dan alkohol untuk Shinigami (Shinigami apel yang layu dan rasa seperti pasir, karena ia menunjukkan Misa pada satu titik), dan akan melalui jenis penarikan jika ia pergi terlalu lama tanpa makan mereka. gejala penarikan Nya melibatkan memutar dirinya seperti pretzel dan handstands lakukan. Dia juga menyatakan bahwa dia malu sekitar perempuan. Selain apel, Ryuk adalah menyukai video game, pertama ditampilkan di seri delapan-panel komik omake, di mana ia meminta Silver Game Boy Advance SP, aslinya diterbitkan di Weekly Shonen Jump Volume 4-5 (masalah ganda) pada tahun 2005 .Pada kesempatan lain, Light Ryuk bertanya apakah ia ingin bermain Mario Golf (berubah menjadi "video game" di anime), tetapi tidak menerima jawaban karena kamar tidur Cahaya adalah disadap dengan kamera. Seperti Ryuk menjelaskan ketika ia pertama kali bertemu cahaya, dia terikat untuk mengambil hidup Cahaya ketika waktunya datang. Dalam manga, Ryuk melakukan ini setelah Light ditembak beberapa kali oleh Matsuda. Dia sangat memohon Ryuk untuk menuliskan nama-nama tim investigasi dan anggota SPK di Death Note yang ia pertama laims dia akan lakukan, tapi Ryuk, Light mengingatkan bahwa dia tidak di pihak siapa pun, hanya menulis nama Light sebagai gantinya. Dia mengharapkan Light mungkin memikirkan jalan keluar dari situasi itu, tapi melihat karena ia cukup putus asa untuk pergi ke Ryuk bantuan, ia memutuskan semuanya berakhir baginya. Ryuk kembali ke dunia Shinigami. Dalam anime, Light tidak meminta bantuan Ryuk dan berhasil melarikan diri berkat gudang untuk semua orang bunuh diri Mikami's mengganggu lain. Namun, luka-lukanya terlalu parah baginya untuk melarikan diri sangat jauh, dan Ryuk, yang mengawasinya dari atas tiang, memutuskan bahwa mengikuti cahaya sekitar saat hukuman penjara tidak layak waktunya dan dengan demikian menulis nama Light di Death Note nya, berkomentar bahwa ia memiliki banyak menyenangkan dengan dia terlepas. Lampu mati damai, dengan kemunculan L berdiri di atasnya – mirroring berdiri Cahaya atas L pada kematiannya.
Film kedua berakhir dalam banyak cara yang sama seperti manga, kecuali diam Ryuk mengarah Light untuk percaya bahwa dia bersedia untuk membantu. Ketika Cahaya belajar berbeda, Light berteriak pada Ryuk dan melompat melalui dia, berusaha sia-sia untuk menghentikan kematiannya sebelum meninggal dalam pelukan ayahnya, sebelum ini, Ryuk mengambil kesempatan ini untuk mengungkapkan kepada Cahaya bahwa manusia yang telah menggunakan Death Note tidak dapat masukkan baik Surga atau Neraka terlepas dari tindakan mereka dalam kehidupan. Dalam spin-off L: Mengubah Dunia menawarkan Ryuk L Death Note, tapi ketika L menolak dan hasil untuk membakarnya, Ryuk erangan tentang L yang membosankan dan menghilang, kembali ke dunia Shinigami.


Rem
Rem (レム, Remu?) Adalah Shinigami yang memberikan Misa Death Note nya. Seperti Ryuk, Rem memiliki dua Kematian Catatan, namun, Rem tidak mendapatkan miliknya melalui tipu daya. Shinigami Gelus, yang telah jatuh cinta dengan Misa, sengaja membunuh seseorang yang akan membunuh Misa. Melakukan hal itu menyebabkan dia dikurangi menjadi debu dan abu, hanya menyisakan Death Note nya. Tersentuh oleh tindakan ini, Rem disampaikan Death Note Gelus untuk Misa, karena itu adalah hidupnya ia diselamatkan. Penampilannya cukup tulang, dengan panjang, lengan tali seperti tulang belakang dan kulit tulang-suka. Rem adalah Salah Kimiko Saito di anime Jepang dan Coleen Wheeler di Inggris pangkat. Sementara Ryuk membutuhkan hiburan dalam segala hal di dunia manusia, Rem hampir sebaliknya. Dia pandangan yang paling manusia dengan jijik, melihat Shinigami sebagai ras yang lebih berkembang. Selain itu, sementara Ryuk adalah ambivalen terhadap keberhasilan atau kegagalan Light, Rem aktif membantu Misa, karena mewarisi cinta Gelus untuk dia. Dia bahkan rela mengorbankan hidupnya untuk membela Misa, sebagaimana dibuktikan dengan ancaman dia untuk membunuh Light harus Misa mati sebelum waktunya.Demi Misa, bagaimanapun, dia masih membantu Cahaya di skema itu, meskipun ia membenci manusia dia memberi Death Note ke. Death Note 13: Cara Membaca kata Rem "seharusnya" mengalami kesulitan saat menulis bahasa Jepang. Juga dinyatakan dalam Death Note 13: Cara Membaca, Rem adalah perempuan, bertentangan dengan beberapa kepercayaan, didukung oleh fakta bahwa di manga, bab 47, halaman 15, panel 3, dia menyatakan bahwa dia, pada kenyataannya, wanita ketika dia mengatakan untuk Misa cintanya untuk dia berbeda. Meskipun tidak pernah jelas dinyatakan, Rem tampaknya laki-laki dalam film adaptasi.
Light berhasil memaksa Rem bekerja untuknya dengan menghadirkan sebuah situasi di mana bahaya akan datang ke Misa sebaliknya. Karena itu, dia meninggal ketika dia menulis nama L'. Dalam film kedua, Rem menyatakan cintanya kepada Misa dan meskipun dia untuk saat Light sebelum kematiannya. Sedangkan Death Note nya tertinggal dalam manga dan anime, dia luka bakar di film karena dendam.



Gelus
Gelus (ジェラス, Jerasu?) Muncul dalam kilas balik ketika Rem menjelaskan cara membunuh Shinigami. Dia adalah, kecil Shinigami boneka-seperti yang tampak ditambal bersama-sama keluar dari kain cocok. Dia hanya memiliki satu mata, walaupun memiliki dua soket mata.
Dalam kilas balik, Rem ingat Gelus menonton selama Misa Amane muda di dunia manusia, dimana ia menghabiskan sebagian besar waktunya lakukan. Mengetahui bahwa itu adalah hari terakhir Misa, ia jam tangan dengan dia, tertarik pada bagaimana dia akan mati. Setelah jatuh cinta dengan Misa, Gelus menggunakan Death Note untuk membunuh pembunuh Misa's ditakdirkan, seorang penguntit gila, melawan protes Rem's. Gelus dikurangi hingga hanya tumpukan debu sebagai hukuman untuk memperpanjang hidup manusia, hanya meninggalkan Death Note nya. tahun berikutnya Nya ditambahkan ke umur Misa's. Rem memberikan Death Note ke Misa karena dia yang ia diselamatkan. Dalam film itu, ia hanya menjatuhkannya dan tanah dekat Misa


Sidoh
Sidoh (シドウ, Shidou?) Adalah Shinigami Death Note yang dicuri oleh Ryuk. Pada saat dia menyadari hal ini, tangan Namun, perhatikan telah diubah beberapa kali, berakhir di tangan geng Mello's (lebih spesifik, bawahan Mello, Jack Neylon yang nama aslinya adalah Kal Snyder). Setelah berulang kali menggangguku Ryuk untuk kembali, ia trek turun geng untuk mendapatkannya back.He menemukan notebook nya di Los Angeles, California dan pada saat kedatangan mengambil notebook dari tangan Mello (sehingga terlihat seolah-olah itu hanya melayang di pertengahanudara) dan menyentuh kepada pemilik saat ini notebook, Kal Snyder (alias Jack Neylon). Setelah keluar aneh Snyder, ia mendapat Mello dan yang lain untuk menyentuh notebook. Dalam rangka untuk mendapatkan kembali Catatan nya, Sidoh setuju untuk membantu geng Mello terhadap SPK Dekat dan tim investigasi Kira. Snyder dipaksa untuk membuat perdagangan mata dengan Sidoh, yang memaparkan aturan 13 hari palsu. Dia memakai pakaian tebal, menutupi sebagian besar wajahnya, dan kepalanya dibungkus perban. Dia adalah Salah Kazuki Yao dalam komik Jepang dan Sam Vincent di Inggris pangkat.
saham Sidoh Mello bagus menyukai untuk coklat, mirip dengan keinginan Ryuk's apel. Sidoh cukup penakut; Mello takut Sidoh, meskipun fakta bahwa Mello adalah manusia. Death Note 13:. Cara Membaca menggambarkan Sidoh sebagai bodoh dan pelupa, jarang mengingat nama-nama Shinigami lain Setelah Cahaya mendapatkan kembali Death Note dari Mello, ia kembali ke Sidoh untuk menjaga dia dari campur.
Minor Shinigami


Armonia Justin Beyondormason
Armonia Justin Beyondormason (アラモニア = ジャスティン = ビヨンドルメーソン, Aramonia-Jasutin-Biyondorumēson?), Atau dikenal sebagai Justin Skeleton Jewel, adalah Shinigami sebentar-fitur yang menginformasikan Sidoh bahwa nya Death Note dicuri oleh Shinigami Ryuk dan memberinya aturan untuk situasi yang berbeda. Sebagai nama nya menyarankan, penampilan Justin adalah bahwa dari kerangka yang dihiasi dengan segala macam perhiasan.
Seperti dijelaskan dalam 13: Cara Membaca, Justin adalah tangan kanan dari Raja Shinigami dan duduk di atas tahta. Sangat cerdas, Justin tahu segala sesuatu yang perlu tahu tentang Death Note, dan Shinigami sering pergi ke dia dalam kesulitan Obata menggambarkan dia sebagai "sombong.". Justin memberikan Sidoh dengan beberapa gulungan menjelaskan berbagai aturan yang Shinigami ada untuk berinteraksi dengan manusia, yang Sidoh menggunakan untuk membimbing interaksi dengan Mello di dunia manusia. Gulungan tidak disebutkan di anime.


Calikarcha
Calikarcha (カリカーチャ, Karikācha?) Dianggap aneh bahkan oleh standar Shinigami, memiliki delapan mata berbaris dua baris pada setiap sisi kepalanya. Dia memiliki kecenderungan untuk blueberry tetapi sinar matahari tidak suka.

Daril Ghiroza
Daril Ghiroza (ダリル = ギロオーザ, Dariru-Giroōza?) Adalah seorang Shinigami wanita yang berjalannya waktu dengan menumpuk tengkorak manusia. Dikenal untuk "bodoh" tertawa. Dia memiliki keinginan untuk emas tapi tidak suka tempat terang. Obata menggambarkan dirinya sebagai "lebih dari Ortodoks yang tampak Shinigami." Obata mengatakan bahwa sejak Obata dirancang dia pada waktu yang sama dengan karya desain nya untuk Sidoh untuk digunakan sebagai karakter utama baru ia memberinya beberapa kontras dengan desain Sidoh's. Obata mengatakan bahwa ia berdasarkan pada desain Ryuk Ghiroza dan berusaha membuatnya tampak "lebih tinggi peringkat." Obata mengatakan bahwa ketika ia menemukan bahwa Shinigami lain akan muncul di Bumi, ia diajukan melalui desain dan dinominasikan Sidoh dan Daril Ghiroza. Obata mengatakan bahwa ia percaya bahwa Ghiroza akan dipilih dan dipersiapkan untuk keputusan itu, melainkan dipilih Ohba Sidoh. Obata mengatakan bahwa alasan mengapa Sidoh dipilih adalah bahwa Ghiroza mencapai peringkat Shinigami yang tinggi dan karena itu tidak akan cocok peran seorang Shinigami yang "dipermainkan" oleh manusia. Obata mengatakan bahwa ia senang bahwa Ghiroza tidak dipilih karena desain nya termasuk banyak detail bahwa ia merasa akan menyebabkan "masalah nyata" jika ia mencoba menarik di setiap bab.

Deridovely
Deridovely (デリダブリー, Deridaburī?) Adalah Shinigami yang menghabiskan waktunya berjudi. Dia humanoid dalam penampilan, tetapi memakai masker tulang di wajahnya. Dia membawa sabit, tematis membuatnya mirip dengan penggambaran klasik dari Grim Reaper. Dia biasanya berjudi dengan Gukku.


Gukku
Gukku (グック?) Adalah Shinigami yang sangat malas yang paling menonjol adalah fitur topeng hewan. Seperti Deridovely, dia menikmati perjudian. Meskipun judi dengan Deridovely banyak waktu, dia adalah seorang penjudi miskin.Dia disuarakan oleh Takeharu Onishi dalam versi Jepang dan oleh Lee Tockar dalam bahasa Inggris.


Kinddara Guivelostain
Kinddara Guivelostain (キンダラ ギベロスタイン, Kindara Giberosutain?) Adalah Shinigami wanita dengan penampilan sengit, memiliki celah besar menonjol dari kepalanya dan gigi yang tajam. Dia menikmati kekerasan tetapi membenci berpikir berlebihan Dia tidak muncul dalam kisah Death Note yang sebenarnya;.. Dia muncul pada tulang belakang Volume 12


Midora
Midora (ミードラ, Mīdora?) Adalah, Shinigami besar slug seperti dengan anggota badan gemuk. Tidak seperti kebanyakan Shinigami, dia tidak memakai pakaian apapun atau elemen dekoratif di tubuhnya. Dia menikmati cuaca lembab tetapi membenci musim kemarau. ukuran besar nya memberinya kehadiran mendominasi Sementara ia adalah karakter latar belakang dalam seri utama., sebuah bab satu-shot set tiga tahun setelah kematian Light berfokus pada dirinya. Dalam bab ini, tindakan Ryuk's telah membuat apel komoditas di antara Shinigami. Midora menggunakan ini untuk menyuap Raja Shinigami ke memberi Death Note kedua-nya, yang dia memberikan kepada manusia dalam upaya untuk mereplikasi pengalaman Ryuk dengan Light. Saat ini "Kira Murah" adalah menepis oleh Dekat sebagai "membosankan", dia membunuh dirinya sendiri. Midora memberitahu Ryuk tentang hal ini, dan dia berhubungan Light klaim bahwa seseorang harus memiliki kekuatan rohani yang kuat dan keyakinan untuk menggunakan Death Note; Midora hanya mengambil lemah. Dia mengakui bahwa Ryuk menilai lebih baik pada hal-hal tersebut, maka memberikan tambahan Death Note kepadanya. Midora tampaknya memiliki perasaan yang sama terhadap pisang, seperti yang terlihat dalam satu panel dari tembakan satu-ketika dia di ruang baru Kira, dia makan pisang sambil berbaring di antara sebuah tumpukan besar kulit pisang.


Nu
Nu (ヌ?) Adalah Shinigami yang tubuhnya ditutupi dari kepala sampai kaki dengan mata. Nu adalah "seharusnya" Shinigami paling kuat kedua, dengan Raja kekuatan Death's gerhana miliknya. Dia sangat cerdas dan menyukai perasaan menyesal orang lain, tapi dia tidak suka suara Obata dijelaskan. Nu sebagai seperti "batu raksasa yang tercakup dalam mata yang menjorok ke luar tanah." Meskipun dia tidak pernah muncul dalam setiap episode di anime yang sebenarnya, Nu ditampilkan sangat sebentar dalam urutan pembukaan kedua, bersama dengan Ryuk, Rem, Gelus, Sidoh dan Gukku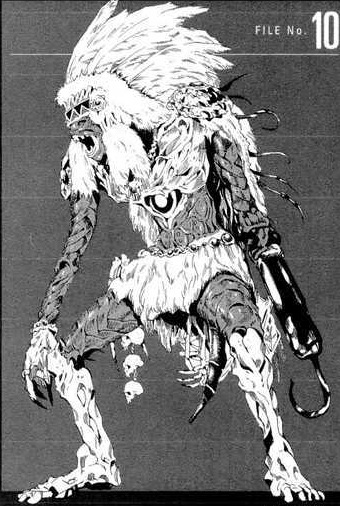 Zellogi
Zellogi (ゼルオギー, Zeruogī?) Mengenakan sebuah mahkota penduduk asli Amerika dan memiliki pengait di tempat tangan kirinya. Dia mengambil minat dalam kegiatan Ryuk di dunia manusia, dan manusia khususnya setelah mengetahui bahwa Death Note Ryuk adalah dalam kepemilikan suatu manusia. Meskipun penampilannya lemah, ia memiliki sifat yang sangat ingin tahu. kepentingan-Nya dalam item berbulu dan ia tidak menyukai lembab suhu.


King of Death
King of Death , juga dikenal sebagai Raja Shinigami (死神 大王, Shinigami Daio?), adalah penguasa Shinigami.Karakter yang tak terlihat dalam seri utama, Raja Shinigami Shinigami mengatur dan mengontrol distribusi Catatan Kematian. Hal ini tidak jelas apakah ia menciptakan mereka atau hanya memiliki persediaan tertentu, karena ia bersedia untuk menggantikan yang hilang. Dia muncul untuk setidaknya menulis aturan untuk Catatan Kematian, tapi apakah ia memaksa mereka sendiri tidak jelas. Raja Shinigami dianggap sebagai semacam figur ayah oleh Shinigami yang lebih kecil, dan dikatakan hampir abadi. Bab 109 menggambarkan Raja sebagai massa besar tergantung di udara dengan rantai. Dia memiliki tengkorak untuk kepala, yang dikelilingi oleh formasi, lebih besar seperti tengkorak. Dia memiliki empat lengan tentakel seperti, masing-masing dengan hanya tiga jari pada tangan, yang menggantung dari tubuhnya. Salah satu aturan eyecatch diberikan dalam seri menyatakan bahwa Catatan Kematian ekstra ditemukan oleh Shinigami umumnya diharapkan untuk dikembalikan kepada Raja, meskipun hal ini jelas bukan sesuatu Shinigami dipaksa untuk mematuhi. Demikian juga, kehilangan notebook juga harus dilaporkan kepada dia sedikit informasi yang diberikan tentang karakter itu sendiri,. Selain dari pernyataan Rem bahwa Raja tidak mudah untuk mengelabui, yang Ryuk berhasil melakukannya. Sebaliknya, ia cukup mudah disuap, karena Midora mampu perdagangan tiga belas apel untuk Death Note kedua setelah mendapatkan mereka dari dunia manusia